Put a New Twist on Your Language Learning Routine
If you enjoy learning languages independently, you know that motivation is probably the greatest factor that your success is built upon. One way to keep motivation high is to learn a new language through your other interests, and this guide will show you how to do that using YouTube to learn Spanish!
Why Learn Spanish on YouTube?
One of the greatest advantages of using YouTube is the variety of native content available. As the world's second largest search engine, you will be able to find something for your unique interests. Best of all, 99% of that content is entirely free, and with the methods we outline below, you can make it interactive as well.
This sure beats paying for expensive traditional lessons with tutors, and you will get the added benefit of connecting with the most modern iteration of the language in the way it's actually being used.
Spanish Language YouTube Setup Tips
First, adjust your account settings to ensure you are getting the most relevant content possible surfaced in your trending and recommended videos. Here's how to do that on desktop:Step one: click the account icon in the upper right, and click "settings".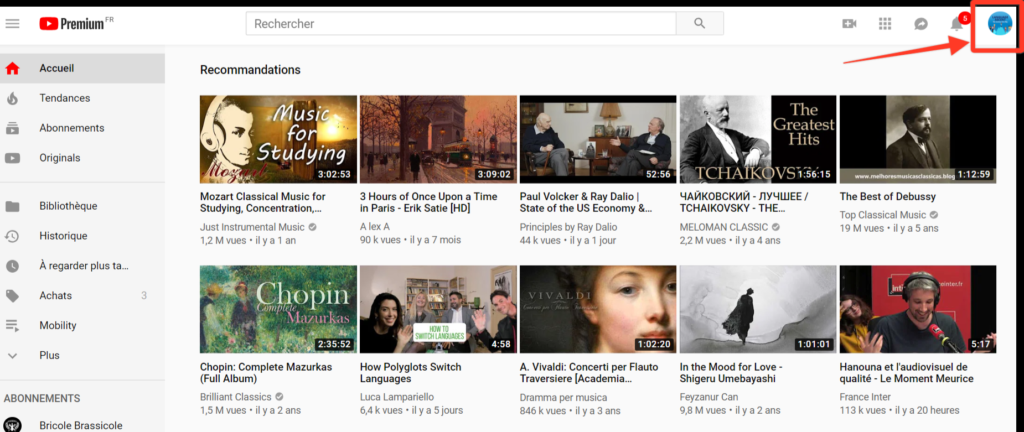 Step two: Scroll to the bottom of the page, where you can adjust your YouTube location and language settings.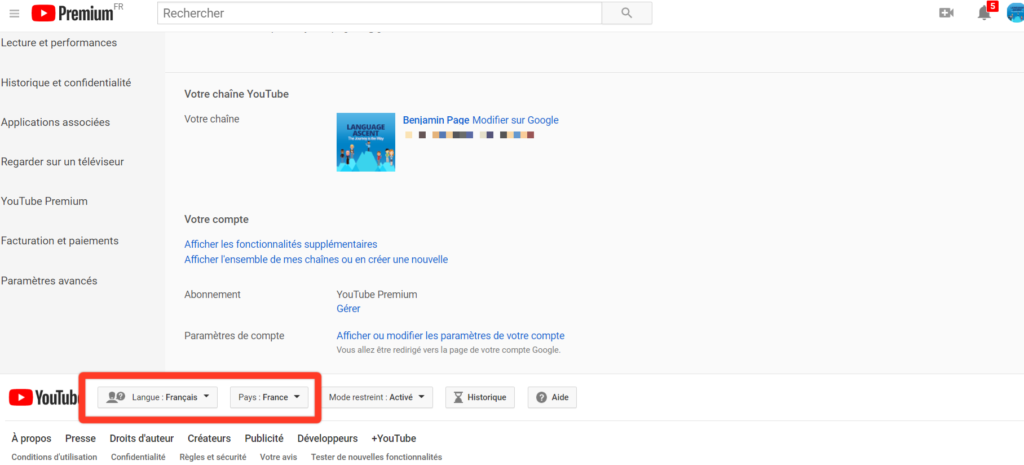 If you want to take this strategy to the next level, change your interface language on your device. This level of commitment and immersion will help you accelerate your growth in Spanish.
The Best Channels to Learn Spanish On YouTube
Now we can focus on the actual learning. Grab a notebook (yes, you do need a notebook and a pen) and start with the basics. One of the best channels for acquiring basic Spanish knowledge is SpanishPod101, a professional channel with multiple teachers that features a wide range of Spanish lessons. Start with one of their well-curated playlists like "Learn Basic Spanish – Spanish in 3 Minutes".
These videos are quite tactical but you can apply them immediately and begin to use the language, which will accelerate your abilities rapidly. From there, you will see that they have videos focused on culture, vocabulary acquisition, and even helpful tips on language learning. Here are additional channels focused on Spanish language acquisition:
Easy Spanish – Easy Spanish is the best listening and reading channel available on YouTube. This channel is part of a network of interviewers that go around places to ask native people questions that are either related or unrelated to languages, focusing on easy to understand subtitles that help you engage with the foreign speakers.
Fluenz – One of the best channels for speaking. Fluenz is an active community that's still operational up to this day and which offers the best word per word phrases, spelled out in correct Spanish to help you pronounce things the way they are supposed to.
Butterfly Spanish – Contains tons of helpful resources including a very useful video on Spanish alphabet pronunciation. The "about" section says: "Learn and improve your Spanish vocabulary, phrases, grammar, pronunciation and tips with these useful lessons."
Consuming Native Spanish Language YouTube Videos
Switching your preferred entertainment source to Spanish can help you grasp the language a thousand times better. You don't have to sacrifice your favorite English YouTubers in favor of Spanish YouTubers all of the time, but you should definitely consume a majority of Spanish language content during your intense study period.
Think about your everyday hobbies and interests. Do you like gaming or sewing? Cooking or history? Find creators who are producing things relevant to your passions and you will increase your motivation to go deeper to grasp language you really care about!
Go on the Offensive
The previous two sections covered ways to increase your input of Spanish language content. Now it's time to take action.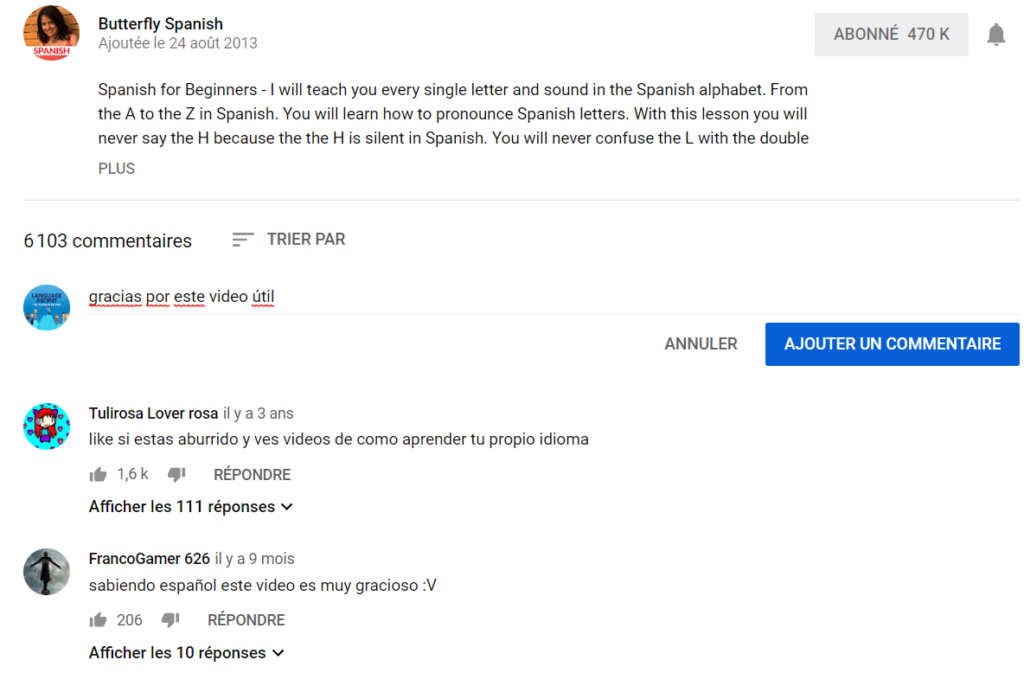 Make a commitment to yourself post only in Spanish while you are on YouTube. If you've already switched your language and location settings, this is the natural next step. The easiest way to begin doing this is to start leaving comments on the videos you are watching. Some ideas for what to say are:
Thank the video creator for their contribution
Ask a question that the video created
Comment on something you found interesting
Make Your Own Spanish Video

You may feel unsure of yourself, and being nervous is natural. It is imperative that you go outside of your comfort zone if you want to increase your speaking abilities. After you've practiced writing by commenting on other videos, it's time to create something of your own! My recommendation is to start by posting a self-introduction video in Spanish and making it publicly available on your channel. This way, if anyone wants to interact with you (based on what you've done in the last step) they have somewhere to direct their messages!

Not only should you try and make the video itself, but try to write a brief description to accompany your video. Don't worry if your video isn't professional quality; it's putting yourself out there that counts.

Find a YouTube Community for Spanish Practice
It's so important to be in connection with other people through your new language. Sure, lots of study might happen independently, but languages are for communication. There is no substitute for having another person to pick you up when your motivation is lagging. Here are three ideas on how you can take action to get into community on YouTube:
Begin to follow hashtags
Subscribe to other creators
Start conversations with other language learners and native speakers
Conclusion
To summarize the action plan that will enable you to use YouTube for learning Spanish, it all comes down to four simple steps:
Configure your account to make native Spanish content available as well as have a Spanish language interface
Focus on input by identifying YouTube videos related to your interests and phrases that you can use right away
Focus on output from day one by commenting and producing your own Spanish YouTube clips
Get into community with other Spanish speakers by taking advantage of YouTube features and subscribing to language learning channels