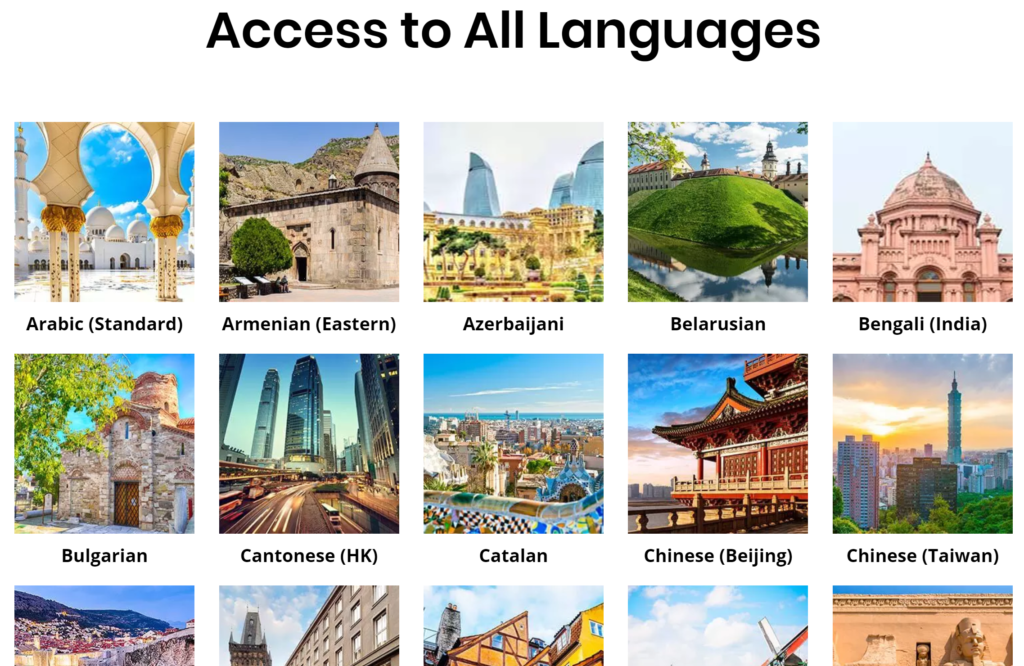 Summary
Glossika is the most advanced and comprehensive language learning software on the market today both in terms of available languages (over 60 on the platform as of September 2019) and functionality.
Since the beta release of the web-based version in September 2017, they've continued to invest in improvements and grow their platform. The latest is version 4.0 released in August 2019.
Read on to see why Glossika is different and better than other software like Rosetta Stone and Duolingo!
Black Friday Sale – Get 50% Off Premium Plans for LIFE – Now through November 30th!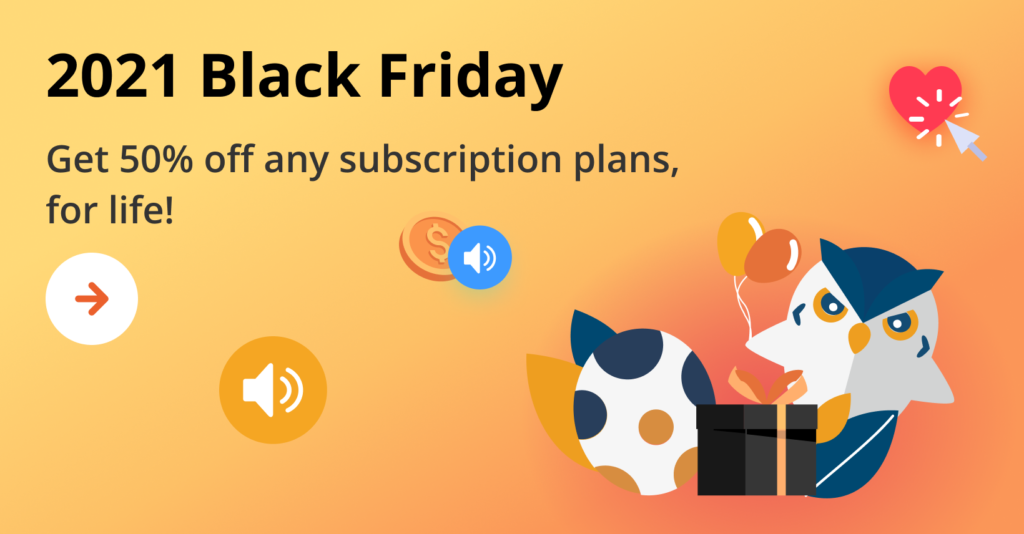 Update September 2019: Glossika now features a hands-free listening mode!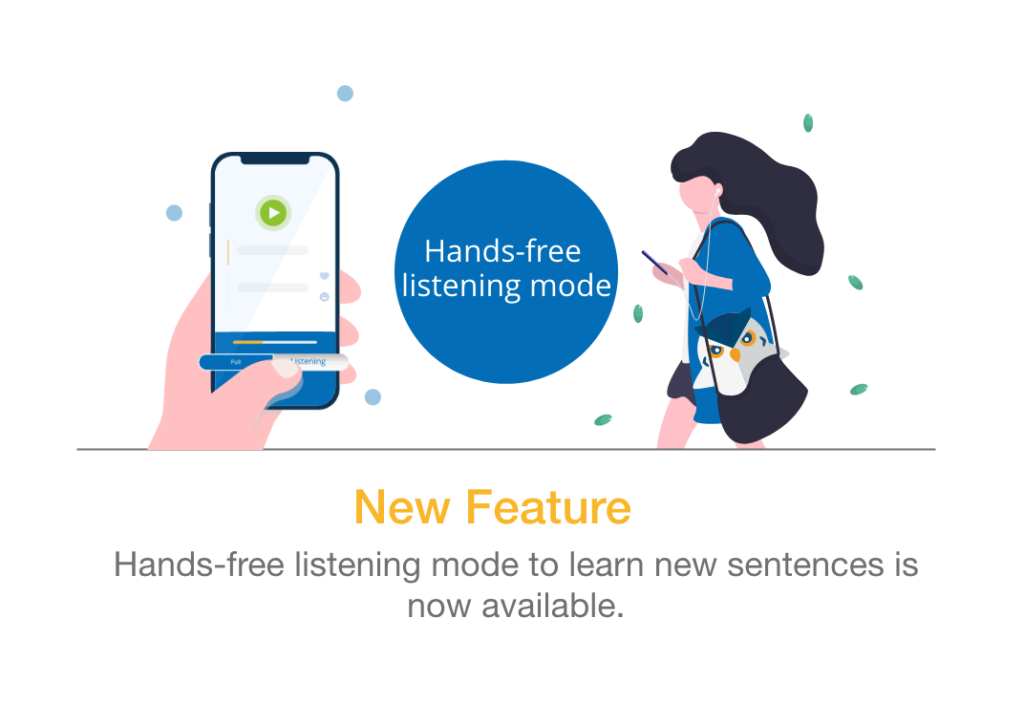 Who is Glossika For?
Glossika is built for everyone interested in learning another language and those who want to quickly refresh one they've already acquired. It is suitable for skill levels A1 – C1.
Glossika will train you on all relevant dimensions of the language: listening, speaking & pronunciation, reading, and writing. You'll learn grammar naturally in the same way that children do, without having to study it.
Glossika is the best value paid language learning tool available in 2019. For $24.99/mo it has the most features, content, and versatility of any program I've tried. You can practice in passive or active modes on any device with web access.
Click on my referral button below to sign up and get 1,000 sentences free, plus $5 off if you decide to upgrade to a paid account!
Background
Before the release of the AI-driven, web-based software platform in September 2017, Glossika existed as an audio course based on the mass repetition method. Users would download audio files and PDFs or use physical books with the sentences and work through combinations following a carefully laid out schedule.
What Glossika Does
Glossika starts with a listening comprehension test for each new language you begin. You listen to an audio clip and select the translated multiple choice answer that corresponds to what you've heard. The test ends when you are unable to complete one, and you are then assigned an approximate level.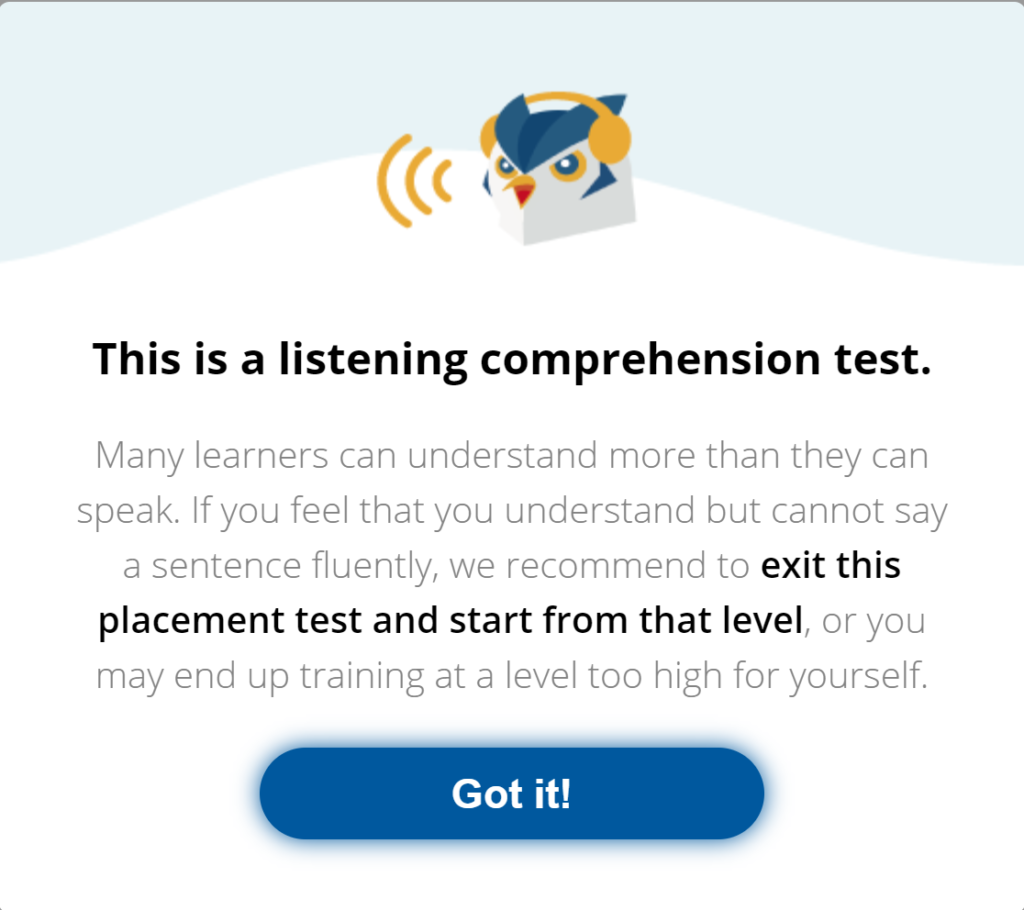 From there, you will start your training. There are two modes in this version of Glossika: Full Practice and Listening Only.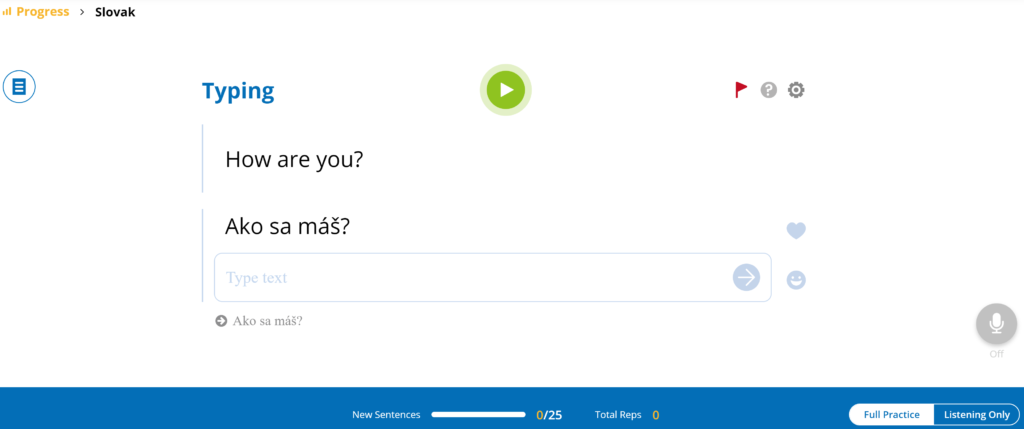 Full Practice combines multiple features into the trainer, and listening only mode better reflects how Glossika previously functioned as a listen-and-repeat style trainer.
Here's how Full Practice works: you're given a pool of new sentences you haven't encountered before. Then, you practice them from different angles such as typing, dictation, and listening.

In this "typing" exercise, you listen to the audio clip–first in your native language, then the target language–and then you type the native text. You have the option of turning on the recording feature, which will record you speaking the sentence. More on that below.
If you are using the typing feature on a desktop or laptop computer, you may need to install a language pack to access the characters needed. I strongly prefer doing this exercise on my phone because I can text MUCH faster than I can type in a foreign language.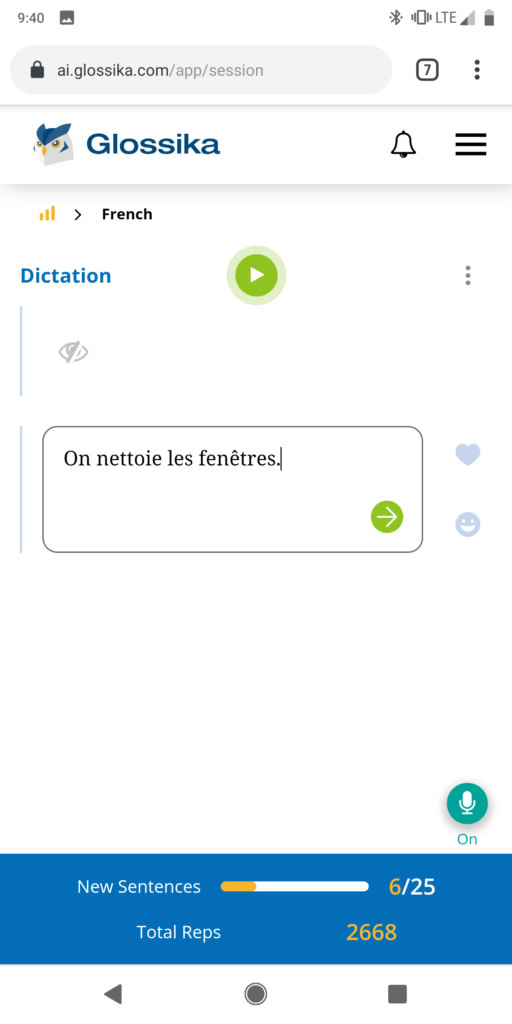 In the dictation exercises, you listen to the native audio and type the native text. This is a great way to build and test your comprehension capabilities.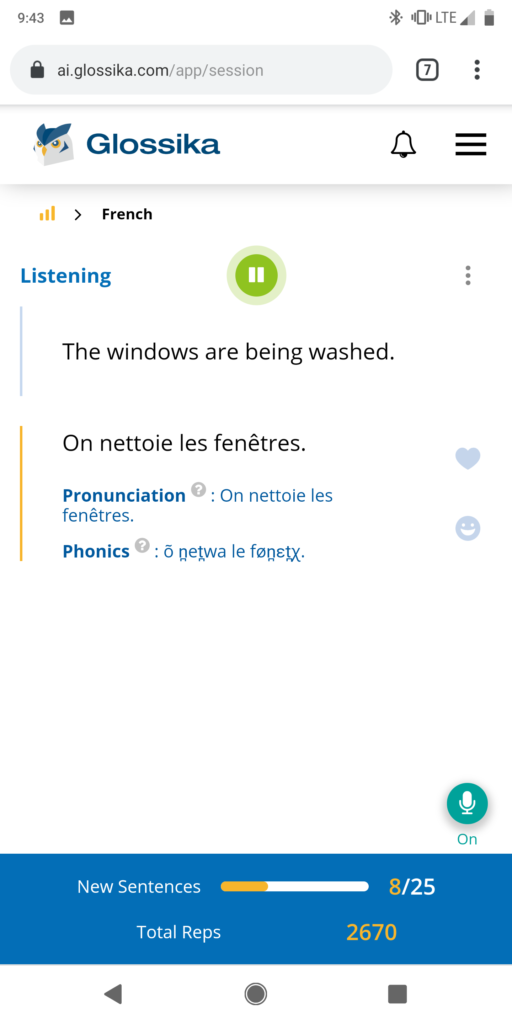 In the listening exercises, you listen to the audio in native language, then target language. You can also see the "phonics" (IPA) view to assist with pronunciation.
What Glossika Doesn't Do
Consider Glossika your best bet for general language preparedness for most any language you are likely to encounter or want to learn.
However, using the tool is not a substitute for practicing generating output (words or speech) of your own, or consuming relevant native content. As you progress, you will need to (and should!) supplement with activities that can help you acquire advanced and technical vocabulary.
I don't consider this a drawback because it is true of any language learning software on the market.
Criticisms and Drawbacks of Glossika
Cost
At $30/month on the month-to-month plan, Glossika is among the more expensive recurring language learning memberships available. However, by committing to an annual subscription you will save significantly, and if you are serious about learning another language you should incorporate its use into your daily routine and treat it as an investment in yourself.
Difficulty
Some reviewers have commented that Glossika is unsuitable for beginners. If you are starting in a language with an unfamiliar alphabet you may have a harder time to start, but it is possible with persistence.
It may not be intuitive, but by slowing down the audio tracks, increasing intervals, and increasing repetitions of basic phrases, you will eventually be able to advance.
On the plus side, the platform will adjust naturally to your progress, and you can mark difficult sentences as "favorites" for continued repetition.
Content Feels Random
Some reviewers feel that the content is either thin or feels randomly put together. While not all topics and languages have the same quantity of source material, more is being added all the time.
The reason that some of the sentences may feel a little unnatural is that they are put together to form "collocations". In other words, Glossika takes words and phrases that are commonly used together in natural language and forms various permutations with them to help you practice different tenses and grammar rules.
Recap
Glossika is a great investment for language learners who are serious about reaching high intermediate level of skill in another language. If you've made it this far, the best thing you can do is sign up for a free account and try the 1,000 reps in a language of your choosing!

Features I Hope They Add to Glossika
Ability to export "favorites" so that I can use them in other SRS applications like Anki.
Build a native app for Android and iOS to correct streaming issues and other nuances that derive from mobile browser use
Allow all features of full practice to be selectable (i.e. option to toggle the "typing" feature)
Add more native speaker audio tracks
Offer an "offline" mode to download sessions in advance
More on the Settings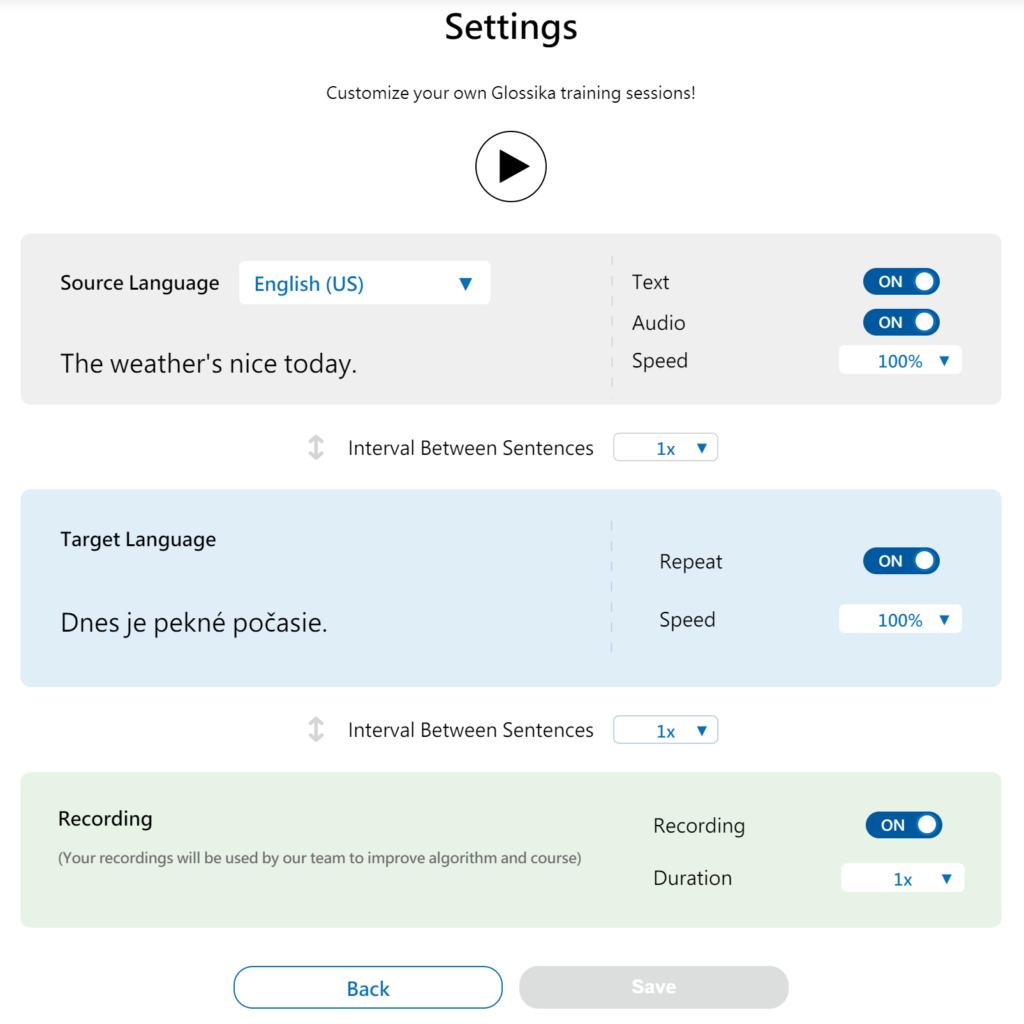 Glossika allows you to customize the settings for your training sessions to better suit your needs. Choose your source language and how you want it to be used (text, audio, both, or neither).
You can adjust the speed and intervals between sentences, and whether or not you'd like to use the recording feature.
More on the Recording Feature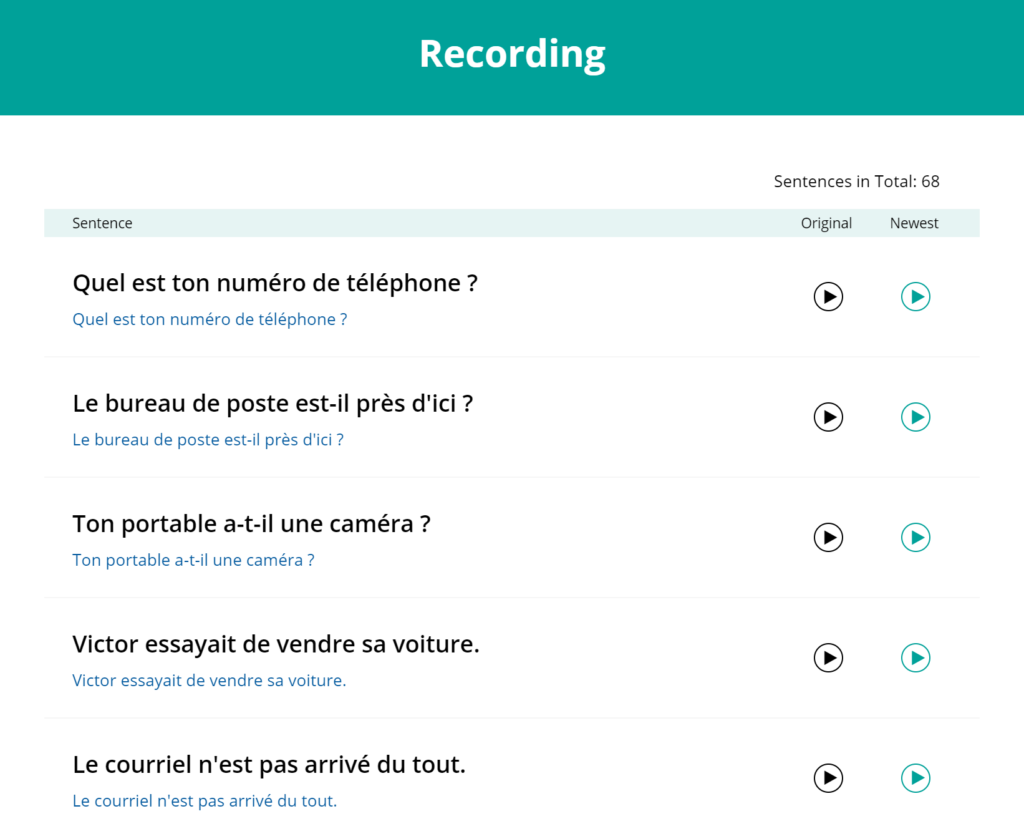 To get the most use out of the recording feature, the best thing to do is record as you are doing your full practice sessions, and then schedule time to log in to the web-based platform and click on "recordings". From there, you can review the native pronunciation and yours side-by-side. To do deliberate practice with these, listen for the contrast between the native speaker and yourself, and continuing to listen and repeat until they sound indistinguishable.
More on the Memory Feature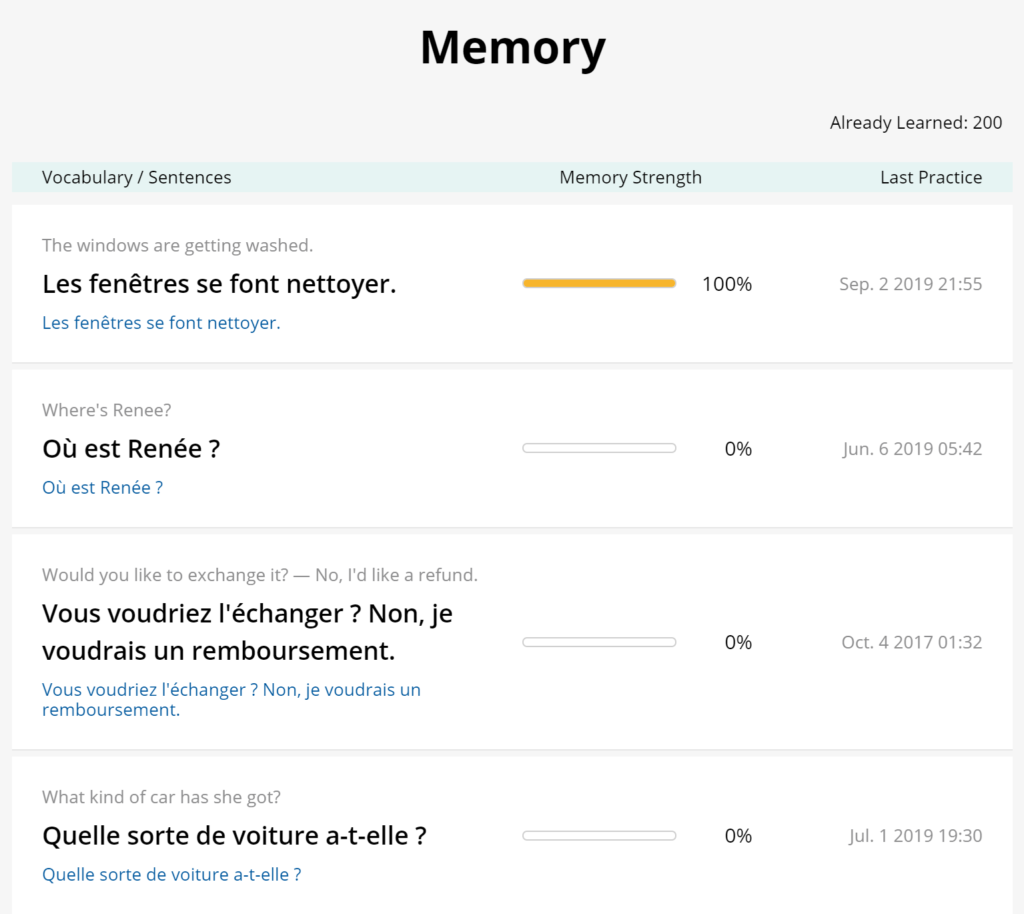 The memory feature is meant to reflect approximately how strong your recall of a particular sentence should be. The algorithm of Glossika uses principles of spaced repetition and will attempt to refresh sentences just before they are forgotten – so in a word, it responds to your progress in learning the language!
More on the Topics Feature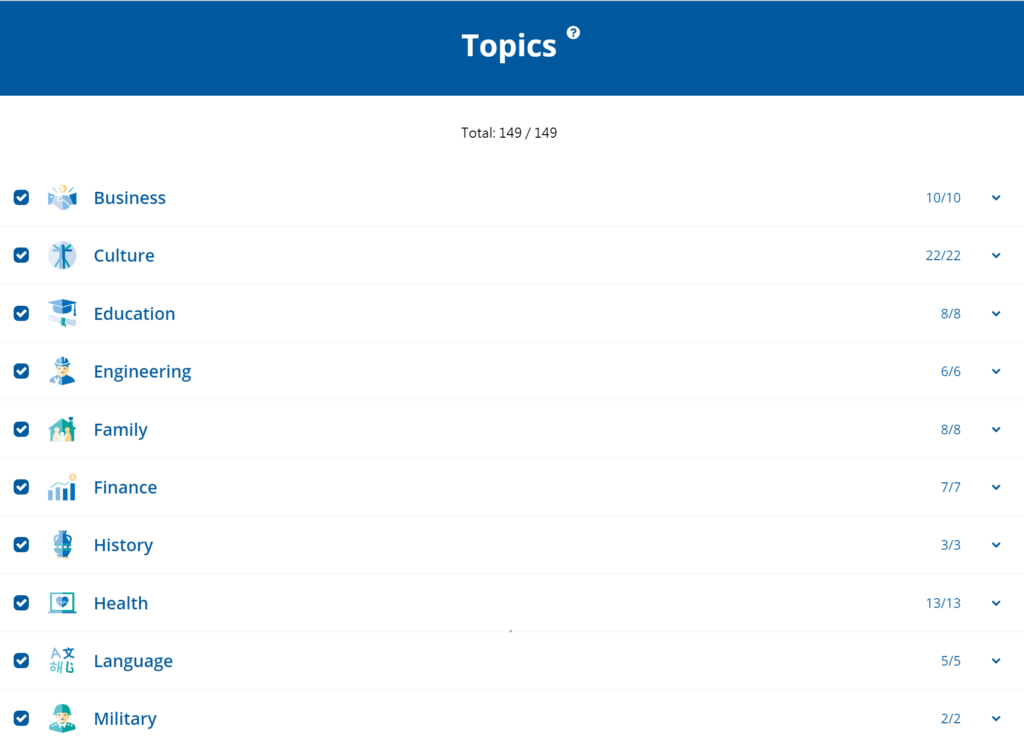 Topics allows you to customize the base material that is in your pool of training sentences. In general, you'll want a wide base of source material to better reflect the capabilities of a native speaker, but if you are trying to narrowly apply the language in a specific way, you could pare down topics to do so faster.