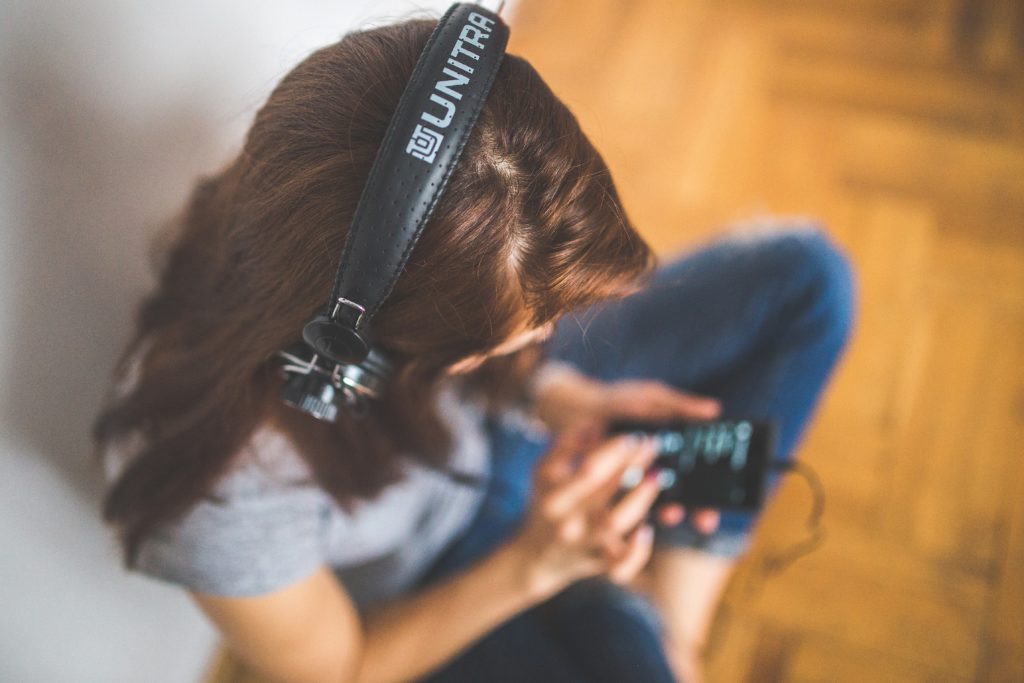 In order to curate the list of the top Spanish podcasts for language learners, I carefully checked out more than a dozen different podcasts. I listened to multiple episodes of those ranked in the top 5 to ensure that they had great content, format, and resources to help Spanish learners along.
1. SpanishPod101
This one is great because it has so much structure and features at least one native speaker per season. There is enough free content to keep things interesting, and the premium version unlocks a review track, line-by-line dialogue, and more. Not to be missed if you are looking for guided, progressive lessons that you can do daily! Episode duration: 10-15 minutes.
2. Coffee Break Spanish
Coffee Break Spanish has multiple seasons of content and a Facebook Page with activities and more. The episodes feature lots of repetition of key phrases with a heavy focus on conversational dialogues. Season one episodes are led by Mark and Cara, two non-native speakers from Scotland. The paid version offers lesson notes and bonus content. Episode duration: 10-20 minutes.
3. DuoLingo Spanish
"The Spanish in this story is for intermediate learners, but if you get lost, don't worry; we'll be chiming in throughout the story."
This is a story-based podcast where each episode is a distinct tale narrated by Martina Castro, a native Spanish speaker. The base narration is in English, with accompanying Spanish audio woven in. Completely free, you can find accompanying transcripts and study materials on the link above. Although aimed at intermediate and above skill levels, the content is so unique and challenging that it will keep you motivated, and easily secures the #3 spot. Episode duration: 15-20 minutes.
4. Notes in Spanish
Three distinct levels of podcasts: inspired beginners, intermediate, and advanced conversations with a total of over 130 episodes. Hosted by a multi-cultural couple, Marina from Madrid and Ben from Oxford. Accompanying worksheets available for a cost. The episode themes range from grammar points, themes like "shopping", "music", and "futbol", and occasions like "Feliz Navidad" or "intercambios." They jump in quickly with lots of conversational discussion and vocabulary. Episode duration: 15-25 minutes.
5. Spanish Obsessed
Episodes average about 15 minutes and jump in quickly to dialogues in Spanish, to the extent that true beginners may get overwhelmed even in the "beginner Spanish" track. Rob and Liz focus on Latin American Spanish that is designed to be effective in everyday situations instead of textbook vocabulary and grammar. "Arranging to Meet", "How to tell a joke" , "Romantic Spanish", and more.

Making Podcasts Useful in Learning Spanish
If you want to learn Spanish, then you should know that it takes time and consistent practice. For that reason, it's important to find ways of picking up the language that keep you interested and motivated as you go along so that you can stick with it.
The most obvious way that podcasts will help you learn is by improving your listening comprehension skills. However, here are a few ideas you can try out in order to transform the experience into a more interactive, deliberate practice session.
Listen & Repeat: at the most basic level, you can choose key vocabulary words to repeat out loud after the speaker. To challenge yourself, attempt to mirror what the speaker is saying as soon as it's said.
Listen & Read: while the narrator is speaking, read along with the Spanish text in the transcript. Another method is to read the transcript content aloud on its own.
Flashcards: for key vocabulary words, you can add them to your SRS deck through a program like Anki, and then review them regularly to engrain them in your memory.
Listen & Write: you can try to dictate Spanish words and then check your answers for accuracy by verifying using the transcript. For a more advanced challenge, write a sentence containing some of the key vocabulary terms you've just heard.
Other ways to activate the vocabulary you've been learning
Write about the theme of the podcast episode itself, how it applies to your life, your own experiences, or write a review of the episode. You can also take all of this content and try to discuss it with your language coach or tutor during a conversation. In my experience, you will make words the most sticky when you activate them through use and by hitting them in different contexts.
Below you will find a more complete listing of podcast resources for more intermediate and advanced learners. These other podcasts feature "native" content intended for consumption by fluent audiences. Give them a try for immersion in the language by finding one that speaks to your interests!
*Denotes no English is used in the podcast